In 2020, The Asian Chamber of Commerce (ACC) will be celebrating our 30th year serving the Asian business community in Houston and focusing on several new programs to unite and elevate our members, partners, supporters and Asian community. We will continue to partner with various organizations and corporations to provide workshops, conferences, luncheons and networking opportunities for our ACC members. Please take time to participate and support us this year.
Business Conference, Expo & Rising 10 Awards
Each year The Asian Chamber of Commerce hosts a business conference to educate and provide opportunities of trade through educational workshop and a business expo. Regional businesses are encouraged to attend in building economic opportunities with the participants. In addition, we want to honor and help recognize successful Asian owned businesses and help provide opportunities for expansion and growth.
The Asian Business Institute is a collection of educational programs aimed to develop and train business owners and entrepreneurs in scaling their operations and ideas into profitable growth.
Executive Business Program in Mandarin and Korean
For the 5th year, Asian Chamber will host an executive learning environment for participants to complete a 10-week MBA fast track program taught in Mandarin. This year we will include a cohort in Korean.
Executive Deep Dive 2.0 (NEW)
This program is an extension of the ACC Executive Business Program where graduates will continue their business growth with an additional year of learning. Each track will contain three sessions to reinforce the business topics of strategic management and marketing/sales.
Supplier Diversity Academy (NEW)
Many businesses need directions on how to find new projects and requests for proposals. The Academy will help qualified companies to be certified and provide tools on how to make their presentations solid in winning projects/contracts.
ACC Breakfast Learning
The monthly breakfast allows speakers to share resources on business topics related to Asia and the Asian American community.
Spirit of Entrepreneurship Awards Dinner
This annual celebration is one of the highlights of the year as we recognize business leaders and community service in the community. Join us at the dinner in the fall as we celebrate the Chamber's 30th anniversary.
Each luncheon gives members opportunities to network and learn from topical issues related to business development, management and outside factors that have impact to profitability and sustainability. These luncheons are 2 hours with an educational portion given by outside industry experts.
Throughout the year, the Chamber hosts happy hours, social events, ribbon cuttings, etc. that allow members the opportunity to develop business leads and relationships
A favorite among our members, company tours are member-only tours that happen throughout the year. Each trip gives members an exclusive private look at operations and supply chain of larger corporations/enterprises.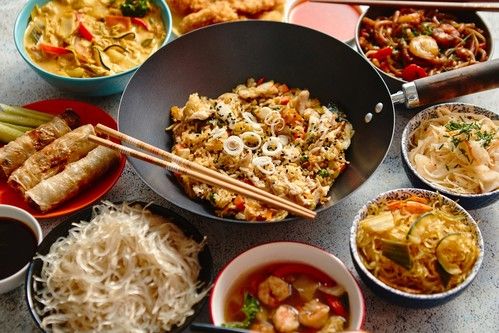 Asian Restaurant Month (NEW)
May is Asian American and Pacific Islander Heritage Month and The Asian Chamber is helping the Houston culinary sector celebrate by promoting Asian inspired dishes and raise awareness of Asian owned restaurants throughout the city.
Asian ERG (Employee Resource Group) Summit and Networking (NEW)
Many corporations and larger organizations have a supportive ERG group among their talent pool. The program will allow the Asian ERG Groups collectively discuss pressing matters that affect the Asian workforce and how to be effective grow and raise support/awareness among the employees. The event will include a collaborative networking event for participants to meet the other ERGs around Houston.
Doing Business in Asia Forum (NEW)
With Houston being one of the most diverse cities in America, the Chamber wants businesses and the various communities to know about the Asian countries represented. This program will provide a platform to share opportunities of import/export and to promote tourism.
The Asian Chamber's goal is to identify opportunities for growth and help foster new relationships and connections to elevate and empower our members to the next level. We look forward in continuing our relationship to providing greater opportunities for your business and the communities you impact.